The potential impact of COVID on the office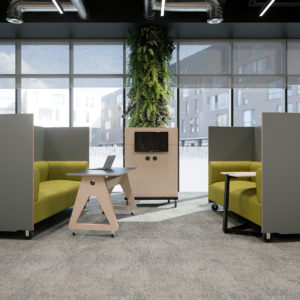 Certainly, Covid-19 will mark the next evolution of how we want to live. Looking back from (say) 2040, people will use the references 'pre/post-pandemic'. However it is too soon to be 100 percent confident predicting the long-term effect on lifestyle of coronavirus. We will experience short-term, temporary change and long-term, permanent change. Here are my initial thoughts:
Short-term change:
Tourism, holidaying abroad & business travel (overnight) will remain depressed as the majority of people continue to be fearful of infection, crowded small spaces and cleaning-thoroughness outside their home. (This effect has potential to last a decade).
More people will work from home than don't.
More people will choose not to go into hospital.

 

Nationalism may increase in a business sense.
Possible long-term change:
For the first time since the early 90's there will be an economic downturn driving high unemployment.
The bulk of consumer spending will be made for home refurbishment.
A significant proportion of the population will self-impose a derivative of current social-distancing rules.
Many restaurants in the casual-dining sector will fail as consumers discover the joy of and acquire new skills for home-cooking

. 

Only a small proportion of the population that do not already work from home want to work from home permanently; but for when they are 'at work' many will want more space with a home look & feel.
Extra space will be created in existing workplaces due to a reduced need for meeting-rooms.

 
Written by Phil Pond, a Consumer & Design Trend Intelligence forecaster from Scarlet Opus, working with a team of futurists who identify macro consumer & design trends for the built environment, the world of interiors and the activities in them… living, learning, working, playing, entertainment and more.