Life after lockdown – the workplace resort and office evolution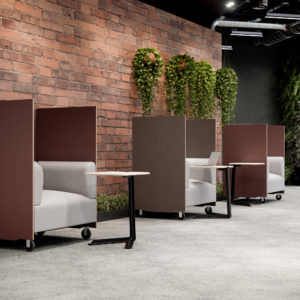 Resort: noun.  A place where many people go for rest, sport, or another stated purpose. (Cambridge University Press).  Work life, post-pandemic, is a source of wide-ranging speculation, as are the factors affecting the possible office evolution.
Most of the chat hinges around the emerging behaviours currently being influenced by applications of long available, but often newly experienced, technology and thoughts around prolonged social distancing measures, versus our innate drive to get together, to see the whites of each other's eyes and do stuff together.
There's an irony to the current necessary restrictions in that those of us lucky enough to still be working are experiencing a certain freedom, a new set of previously unimaginable choices. Attend the team meeting in reasonably ironed shirt but no trousers? Why not? Sit in the garden with a gin fizz for the hour usually stuffed into a tin can full of tired people on the journey home? Sure. So long as the goods are being delivered, it's all good.
Empowered and emboldened with new options as to where and when work gets done, the physical workplace has to re-model itself as a sought-after destination, a resort. We're going to witness an acceleration of the evolution that that was already in play, designing offices for enhanced user experience.
From their beginnings, resorts have built value and differentiation on offering their user's an experience they just can't get at home. We know that most resorts possess their own individual culture with a brand aligned and promoted to attract like-minded people, with similar objectives, to return time after time.
Never will personal and group choice have been so influential. The reason the stereotypical, indomitable and once all-seeing Blackpool B&B landlady is a thing of the past is that the guest had to do things her way, to her restrictive timetable. We want to decide for ourselves what we're getting, to be able to access the amenities and facilities we want, when we want, and we don't want any surprises, unless of course they're curated for us.
At the risk of overstretching the metaphor, one feature that a resort has to offer more so now then ever before, is safety. It may be extreme sports in Queenstown or a deckchair in Eastbourne, the user's safety is entrusted to the operator and they must leave no stone unturned to ensure that is protected in every possible way. Wellbeing can only be focussed on when safety is assured.
Air quality and crowds, proximity to others have always been important when considering a resort's merits, but right now and for the foreseeable, they are arguably the most important considerations for safety. More than ever we'll want to be free range and meet in settings that aren't physically enclosed. It's ideas, trust, motivation and innovation we want to incubate. Nothing more sinister.
What is not speculation is that it's the responsibility of commercial interior designers to shape the post pandemic workplace. Brave developers and clients with vision help too. A resort is nothing without placing the user at the heart of every decision and forging deep, meaningful connections with people. That's the stock-in trade of the talented workplace designer.
Emerging from these dark times, blinking in the sunshine of our favourite destination, we could well be entering the golden age of the office.
Written by Oliver Ronald, Connection.