A nomadic approach to working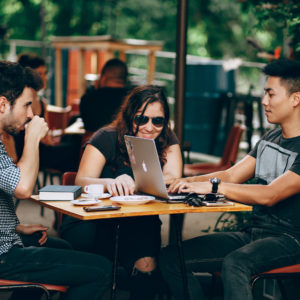 Globally employers continue to wrestle with the problem of talent acquisition and retention. The phrase "digital nomad", describing a workforce who operate remotely without a fixed office base, has been around for a number of years now and whilst it initially emerged as a micro trend, it looks set to stay.
In order to create desirable workplaces and encourage both current and future employees back into the office, we consider why employers and designers must take leanings from this nomadic movement.
Worldwide, the millennial generation continue to enforce change and create new rules which employers are struggling to understand; 80 percent of key employee decision makers remain from older generations, according to research.
Conversely, Millennials are now also influencing what their older colleagues want from their employment, which further compounds the problem. Many employers find themselves with more generations in their teams than ever before and are challenged to understand how to balance wellbeing, motivation and consistent performance in this growing workplace diversity.
Working remotely, away from the office, is not the only option that employers can offer to combat the increasing desire for nomadic working. Designers can answer this call to action by creating flexibility within workspaces, allowing employees to not feel restricted by desk working, offering working breakout areas and re-configurable spaces, can create a nomadic feeling within the confines of the office. The key question for designers here is 'How can a space be designed to inspire productivity and remove boredom without becoming a distraction in itself?'.
Written by Lucy Hardwick, Marketing Director