In conversation with Jo Day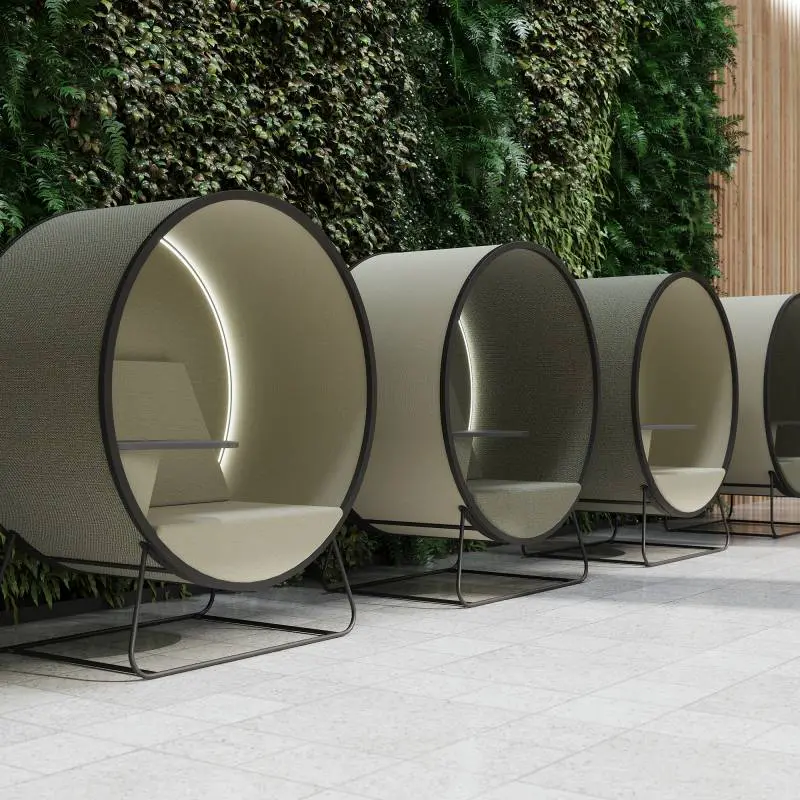 Initially launched at Clerkenwell Design Week 2022, and named after the Norwegian word for 'dome', Kuppel is a personal workspace solution, designed for the modern workplace.
We spoke to designer Jo Day of Design and You, to discuss initial inspirations, the modern workplace and the future of commercial design.
What was the initial inspiration behind the design?
Kuppel was driven by my desire to create a chair that was manufactured in the most sustainable way possible by exploring recycled materials and challenging traditional manufacturing processes.
Its distinctive circular shape is the result of sourcing a UK manufactured 100% recycled tube manufactured from post-consumer waste material.  This material has allowed me to move away from traditional frame building techniques enabling it to be both economical in production and limiting manufacturing waste.
What do you see as Kuppel's key benefits and USPs?
Kuppel enables the user to escape the distractions of open plan spaces such as, busy offices, airport lounges and waiting areas.
As the ultimate curvilinear shape, the circle embodies all the attributes that attract us to it. It is a safe, gentle pleasant shape that evokes calmness, peacefulness and relaxation which in turn helps Kuppel aid physical and emotional wellbeing, particularly within the workplace
The design is very unique and makes for a great statement piece.
How do you see Kuppel fitting into the modern workplace?
Kuppel offers a multi-functional space whether it is to work, take calls or relax.  The modern workplace needs to provide a space that is adaptable to the changing way we are working and Kuppel aims to do that.
The worktable and power are useful additions together with soft upholstered seat cushions for support and comfort.
The circular upholstered back panel enables Kuppel to easily sit anywhere, from the centre of a room, back-to-back or along a corridor.
 What do you see as the next steps in commercial interior design?
I believe flexibility will continue to play a large part in the success of commercial interior design.  Modular and reconfigurable environments are areas I am particularly interested in developing.  This will help keep spaces relevant, supportive, and practical.
What are the key issues that designers are facing today?
For me personally, it about sustainability more so than ever.  I believe it's a designer's responsibility to fully explore any new design by way of materials and manufacturing processes way before it goes into production.
We also have an ever-evolving work place and in order for designers to provide design that is sustainable, it has to stay relevant and useable for the longest time possible.