Stockholm Furniture Fair 2019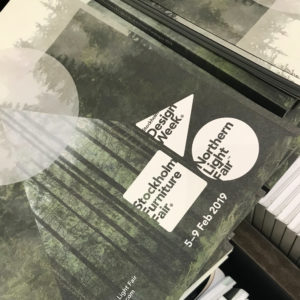 We visited a snowy Stockholm to see the Furniture & Light Fair 2019. Running as part of Stockholm Design Week, the Stockholm Furniture & Light Fair is now in its 68th year. The world's leading event for Scandinavian design features the latest innovations in design for both commercial and residential interiors. On show are a variety of new products, materials, trends and ideas. The fair now spreads over four huge halls, so there is a lot to digest. Here we have picked our highlights and key themes.
Colour
Rich, dark colours were at the forefront of impactful, head turning designs. Deep navy, mossy green and rich oxblood were three colours that we saw across a multitude of stands. When paired with a neutral grey or beige, these opulent colours really pop. Classic and timeless, these are shades that stand the test of time.
Materials
Opposite ends of the colour spectrum, but prevalent across the whole show, was deep black metals and light ashy woods. Sleek, black metal framework on soft seating adds an industrial feel and is especially striking when paired with a colour to play up the contrast such as mustard yellow or tomato red.
Fabrics
Luxurious fabrics have had a huge resurgence at this year's fair. Textures that you can't help but touch and feel, such as velvet, chenille and leather, were particularly impactful when used in the rich blue, green and oxblood colour palettes mentioned previously. Eye-catching upholstery techniques added to that feeling of superior quality.
Sustainability 
Sustainability continues to be a profound global shift, no longer a trend, it is the new normal. How to live and work more sustainably is on a lot of people's minds this year. Whether it's how to reduce our carbon footprint, how conscious we are of the materials that we're using or the life cycle of a product. A lot of brands at this year's show looked to highlight the sustainability of their products and their overall commitment to this cause.
Craftsmanship
Designers are moving away from a perfectly finished product and towards showing off craftsmanship. The increasing interest in the provenance of products means that instead of hiding elements that are perhaps not traditionally aesthetically pleasing, these foundations are now exposed to become a design feature in their own right.
Written by Lora Madigan,